Using Hamsters with FinePointe WBP
There is no WBP chamber specific to the Hamster animal model like there is for mouse, rat, and Ferret/GP.  However, with a simple hardware and software modification you can use a rat chamber with a rejection-loosened mouse algorithm to confidently analyze hamster data.
Here are the necessary steps for a customer to take, assuming they have Rat WBP chambers and FinePointe version 2.5 or later.  Refer to the FPWBP Application Guide for further information on any of these individual steps, or reach out to DSI Technical Support for assistance.
1.  Add one additional pneumotach screen to the animal side of the rat chamber pneumotach: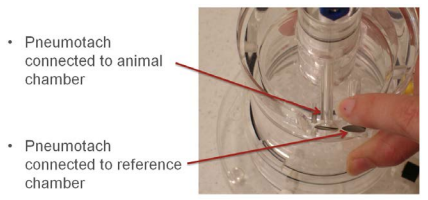 Note:  the below steps are only necessary if using FinePointe version 2.9 or earlier.  FinePointe version 2.9.1 (release in April 2021) added a Hamster species selection, so you would select Hamster instead of Mouse.
2.  Within the FinePointe Control Panel > Hardware Configuration, configure the rat chamber as a mouse chamber instead.  In addition, set the Normal and During Aerosol Bias Flow Rates to 1.5 and 0.2, respectively:

3.  Create a study within FinePointe, and select mouse as the species here as well:

4.  From within this newly created study, go the Acquisition Algorithm Settings under the "Study Settings" section:

5.  Set the Profile to Drorbaugh & Fenn Reduced Rejection (or Epstein Reduced Rejection, if you prefer the Epstein compensation formula):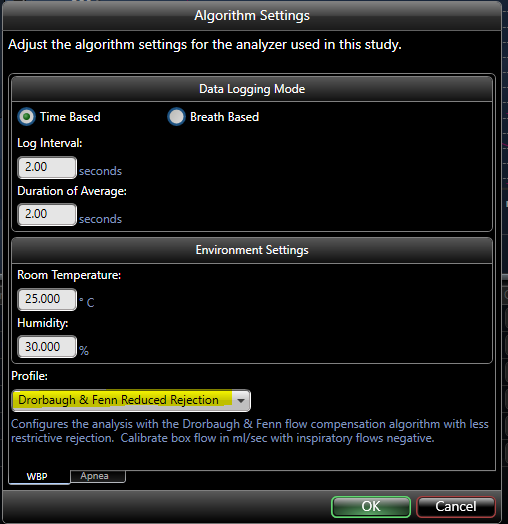 Remember to calibrate your chambers before use and make sure that it passes.  If it does not, refer to the FPWBP Application Guide for the error codes and causes, or contact DSI Technical Support for further assistance.