FinePointe License File Upgrade Installation
This procedure describes the steps required to upgrade a FinePointe license dongle using a license upgrade file. The purpose of the upgrade is to enable a new version of FinePointe, or to add new features to an existing FinePointe system, or to install a Temporary FinePointe License.  The license upgrade file may have been received via email, on a USB flash drive, or directly from a DSI representative.  If you require any assistance during this installation, please contact DSI technical support at support@datasci.com
Required Items
The FinePointe Controller server PC  (computers which hosts the FinePointe software)
A Microsoft Windows Administrator account on the FinePointe Controller PC.
The license dongle upgrade file. This file type ends with the ".mlf" extension.
The FinePointe license dongle (Sentinel HASP HL dongle).
To upgrade the license file:
1. Copy the license file you received from DSI to the Windows desktop of the computer that has the FinePointe™ Controller program installed (The license file may need to be unzipped first).
2. Make sure the FinePointe™ USB license dongle is attached to the workstation.
3. Launch the FinePointe™ Control Panel and log in using a Windows Administrator account.
4. Click the View License Details button. The view will take a few seconds to open while FinePointe™ retrieves the license information.

5. The attached dongle information should be displayed. This includes the HASP ID, FinePointe™ version, and enabled options.
6. In the License Management section on the top tool bar, click the "Install" button.

7. The Install FinePointe™ License dialog should open.
8. Select (1) I have a license file and then (2) click the Select license file button.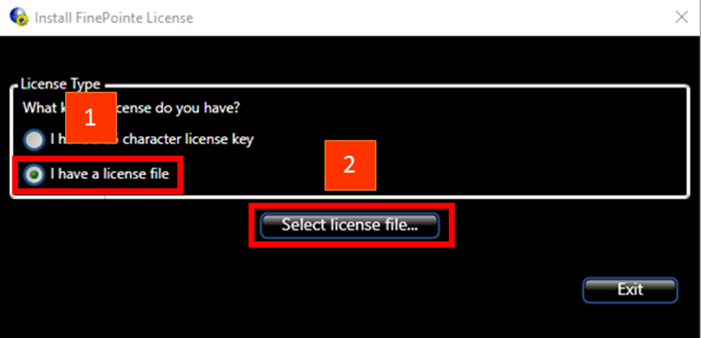 9. A Windows file browser dialog should open. Navigate to the folder you copied the license file to in step #1 above. (1) Select the license file and then (2) click the Open button.
10. FinePointe™ will upgrade the USB license dongle. A success message should appear.
11. Close the success message.
12. In the License Management section on the top tool bar, select the "Re-read license" button.

13. After a few seconds, the displayed license information will refresh. The new options that were added by the upgrade should appear.
14. Verify the new version and/or features that have been added.
15. Close the FinePointe™ Control Panel.
16. This completes the license file installation procedure.