JET Device Battery Information
The JET device uses a removable and rechargeable Lithium Ion battery.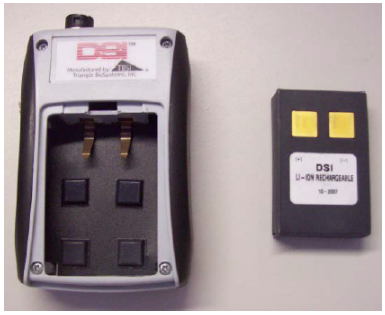 Replacement Guidelines
Replacement of this battery is recommended every 1 to 2 years depending upon storage and use conditions.
If the battery voltage after full charge (more than 6 hours) is < 4.05 V, then the battery should be replaced.
If a fully charged battery fails to run for at least 24 hours, replacement with a new battery is recommended.

Note: The battery cannot have its capacity increased once diminished.
Maintenance
Overtime, the contacts on the battery, charger, and JET device will oxidize, reducing the ability of the battery to fully charge and/or discharge. DSI recommends cleaning the contacts of the battery, charger, and JET device with alcohol and a Q-tip or cotton swab at least once every 3 months being careful to not damage or deform the contacts.
Storage
The preferred conditions for storage are in cool, non-freezing temperatures (e.g. a refrigerator set for 4-10 C (40-50°F)) at a reduced, not fully discharged, charge level (e.g. the charge level remaining after use)
Battery Capacity
The battery has a capacity of approximately 27 to 30 hours, when new and may be charged ~200 times. The battery prefers a partial rather than a full discharge. Frequent full discharges should be avoided. It is memory-free in regards to performance deterioration.
The estimated capacity of this same battery after one or two years depends on storage conditions:
| | | | |
| --- | --- | --- | --- |
| Storage Temperature | Charge Level | After 1 Year | After 2 Years |
| 0 °C | 40% | 26.5 to 29.4 hours | 25.9 to 28.8 hours |
|   | 100% | 25.4 to 28.2 hours | 23.9 to 26.5 hours |
| 25 °C | 40% | 25.9 to 28.8 hours | 24.9 to 27.6 hours |
|   | 100% | 21.6 to 24.0 hours | 17.3 to 19.2 hours |
Thus, if your lithium ion battery is stored at either a cool temperature or a reduced charge level a battery capacity of >24 hours use can be maintained for 2 years. Storing at both a cool temperature and at a reduced charge level is best.
A double battery extension can be purchased to allow the use of 2 JET batteries per JET device. Part #276-0139-001. The instructions for use are available as a PDF.