Pneumotachograph Connection Information for JET RIP Calibration
Background
Pneumotachographs are used to provide a known resistance which can be measured in the form of a differential pressure using a transducer.  From this differential pressure, respiratory flow can be calculated.  "Pneumotachs" come in various configurations such as screens in a whole body plethysmograph or as an off the shelf unit from a commercial vendor such as Hans Rudolph.
Applications, such as JET RIP, use a Hans Rudolph pneumotach to calibrate the system prior to collections.  In order to connect the Hans Rudolph pneumotach to a system, connections on either side of the pneumotach must be known.
Pneumotach Flange Sizes
The Hans Rudolph pneumotachs come in a variety of flow rates as well as physical configurations.  The physical configuration of the pneumotachs used with DSI products include two port tubes of differing sizes.  The large flange has an outside diameter (OD) of 22mm.  The small flange has an OD of 15mm.  It is worth noting that other sizes do exist so it is important to have the correct size tubing for the specific pneumotach purchased.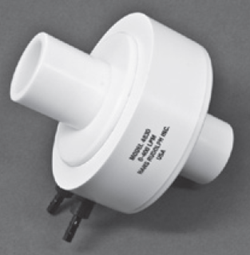 Image courtesy of the Hans Rudolph website, http://www.rudolphkc.com/
The small flange with the 15mm OD typically connects to a bias flow unit for purposes of calibrating the system.  Often times a flow meter is put in line between the pneumotach and bias flow unit to provide a more accurate reading of the flow values produced by the bias flow unit.  Expect that the tubing between the small flange, flow meter, and bias flow unit will differ.  Use of connectors (reducers) to connect the various tubing sizes will be needed.
The large flange is designed to accept commercially available anesthesia masks currently sold by DSI.  The connector on the anesthesia mask fits within the large flange of the pneumotach