Creating Stagger Days within Ponemah v5.20 Study Protocol Option
Background
Stagger Days were designed to accommodate the large number of subjects that could be used in the traditional multi-lead ECG collections (Tox study). In these Tox studies, it was not uncommon to utilize over 60 subjects which made collection in one day a challenge.  By enabling Stagger Days, animals can be split across multiple calendar days but still be associated with a single study day of collection.
Note: Stagger Days may also be configured for use with Non-Tox study designs. 
Configuring Stagger Days
Enable Stagger Days is a setting under Options located at the bottom of the Study Setup dialog.  To enable this feature, simply check the associated check box.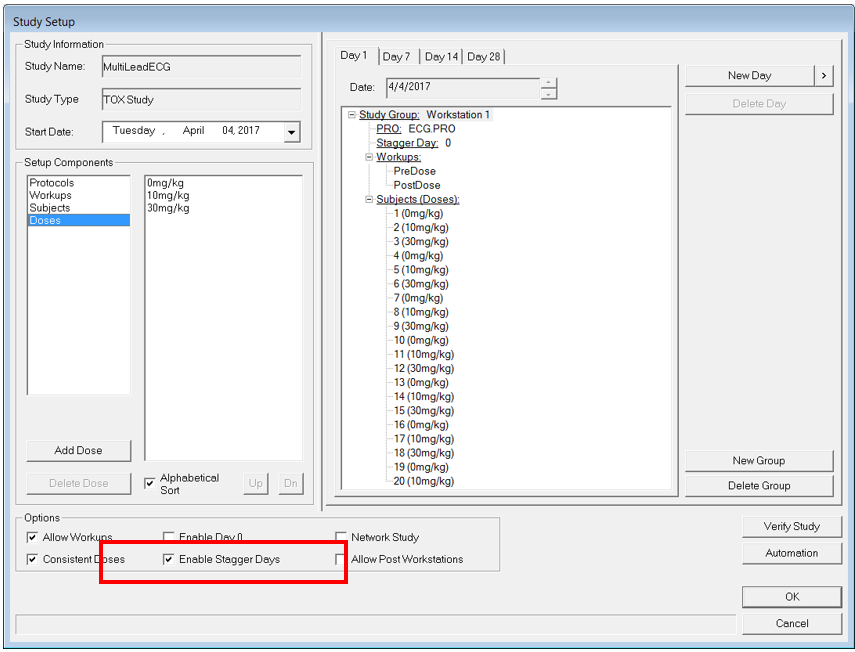 Once this feature has been enabled, the right hand side of the menu will display a "+" and "-" button to allow you to set the number of days needed for the stagger, as well as an indicator of that stagger within each workstation.  The image below shows a single workstation configured to collect data with a stagger set to 1.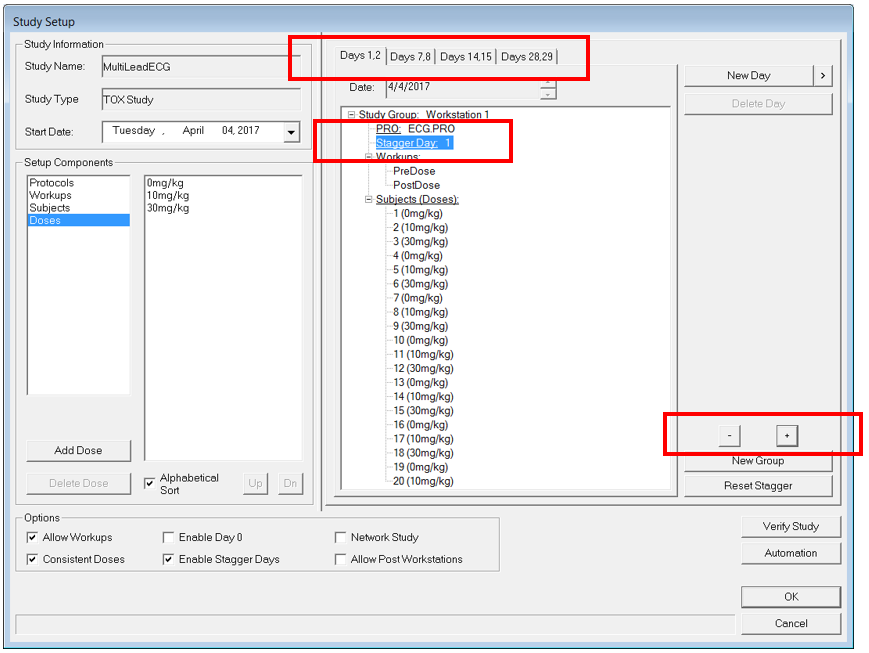 To increase the number of Stagger Days, click on "Stagger Day: 0" under the protocol and then simply click "+" until the desired number of calendar days needed to complete collections is reached.  The Stagger Day field, located just beneath the protocol, will update each time the button is clicked.  In addition, the tabs at the top of the dialog that represent the study day of collection will also change.  The first image showed study days 1, 7, 14, and 28.  In the image above showing the Stagger Days, tabs have now updated to show multiple days that correlate with the stagger that has been set.  In this example, a stagger of "1" was set to allow collections to be performed over two calendar days.
It is important to note that DSI Reporting (DSIR) uses the day of study for reporting and not the calendar day of collection.  In the example above, all subjects collected on the scheduled day and stagger day will be reported on Day 1, for example.  
When configuring Stagger Days, you may find that the "+" and "-" signs become grayed out and are no longer active.  When this occurs check that you have not exceed the time in between the study days that have been initially configured.  In the image below, a maximum stagger of "5" can be configured since this spreads collections across Days 1-6.  Increasing the Stagger to "6" is not permitted as this will then run into the scheduled Day 7 collection.