How to create a Poincare Plot using Ponemah Custom Derived Parameter
Poincare plots can easily be created using the Ponemah Customer Derived Parameter feature.
Please note, Custom Derived Parameter is available in Ponemah 5.x series v5.40 and later.
To create a Poincare Plot:
Open data using Ponemah Review
Create the RR-1 (n+1) parameter

Select Setup | Custom Derived Parameter
Click Add New button
Enter Name: RRnext
Select Parent Algorithm: ECG
Select Averaging: Mean
Enter Unit: ms
Ignore Matching Type
Enter Expression: [RR-I(1)]

(1) indicates the system should report the next cycle
(-1) could be used to have the system report the previous cycle

Click Update button
Click OK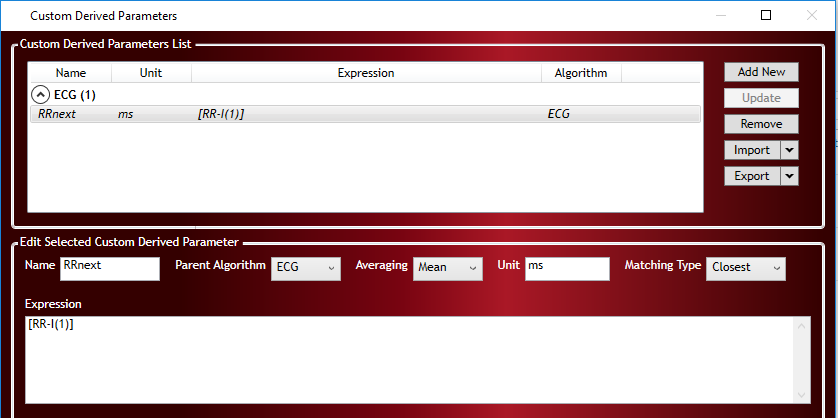 Create Scatter Plot of RR-1(N+1) vs RR-I

Select Setup | P3Setup
Select Graph Setup
Select an unused graph page
Enable the graph page by clicking (checking) the associated checkbox
Select Scatter using the Type dropdown
Define X axis:

Select ECG channel for Input
Select RR-I for Parameter
Enter Label RR-I

Define Y axis:

Select ECG channel for Input
Select RRnext for Parameter
Enter Label RRnext

Click OK

Navigate to the generate graph page
Double-click the graph pane and select AutoScale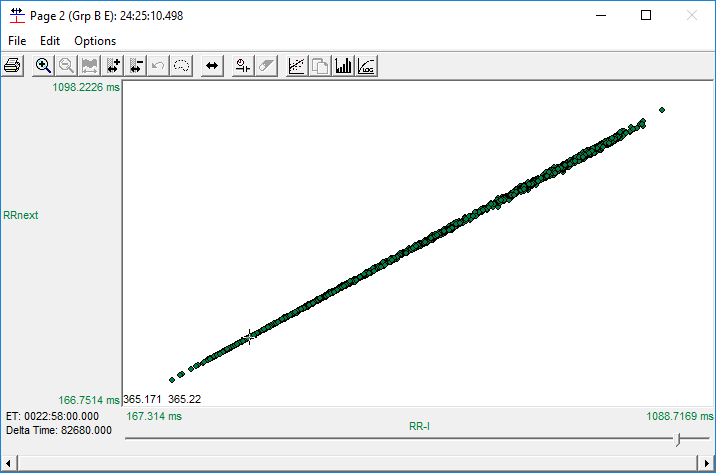 To include the RRnext parameter in the Excel output upon saving the mark section, it must first be enabled/added to the Derived List View.

Select Setup | P3Setup
Select Channel Input Setup
Select the ECG channel(s) desired
Select Derived Parameters button
Ensure RR-1 is enabled, if not check the box to enable it
Check the checkbox associated with RRnext




Click OK
Click OK
Select Functions | Save Marks Section
Enter a unique Mark Section name and ensure Save Derived Data checkbox is enabled
Click OK
Navigate to the Ponemah Data folder to obtain Excel file with RR-I and RRnext parameter data available for further processing

Note: further analysis for SD1 and SD2 calculations may be performed from the data in the Excel output.