Configuring Study Workups when using Ponemah SEND module
Background
SEND, Standard for Exchange of Nonclinical Data, is a standardized method to exchange data between organizations and for data submission to the FDA or other regulatory bodies for non-clinical data.  SEND functionality was released with Ponemah 5.32 and can be integrated with the Study Protocol Option (Study) to automate and provide a structured handling of the data from acquisition through SEND table creation.  This document will focus on the configuration of "Workups" within Study for a traditional Multi-lead collection process.
Details of the complete Study configuration will not be presented here but will focus on the correct terminology needed for defining workup names that are SEND compliant.  Information on both Study and SEND configuration can be found in their respective manuals and in the Knowledge Base section of the DSI website.
Study Configuration
The following is an example of a Multi-lead ECG configuration created using Study with Data Reduction output defined by Parser Segments.  The protocol, subjects, and doses have all been created.  In this example, Workups will be defined for both pre-dose and post-dose collection times.
When Workups are configured in the appropriate format, the workup label will replace the Data Reduction label and be included in the SEND output.  Also, the assumption when configuring a Tox Study design is that there will be only one interval reported for an acquisition, unlike a telemetry collection where multiple Data Reduction intervals will be reported over an extended collection period.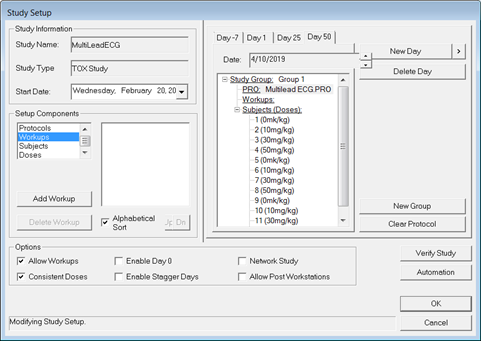 Study allows any text to be entered and used within this study context.  However, only SEND compliant terminology (ISO 8601 interval format) will be able to be pulled into the SEND output.  If the workups defined here do not meet the accepted format, acquisition and review sessions will still function as expected, however, the workup label entered above will not appear in the SEND tables as entered.
To define a Workup, click on the Add Workup button.  The following dialog will be displayed. To define a two hour post-dose time, enter the time in hh:mm:ss format.  Note that zeros used for padding can be dropped as they are not needed, example 04H would simply be 4H.
To remain compliant, a two-hour post-dose collection would include "PT" in the string.  P represents the start of the duration and T represents time.  The designators must precede the actual time.  Therefore, the SEND compliant time point would be entered as "PT2H".

Additional timepoints have been entered to represent a two-hour pre-dose timepoint and a post-dose timepoint of 4:30:15 seconds.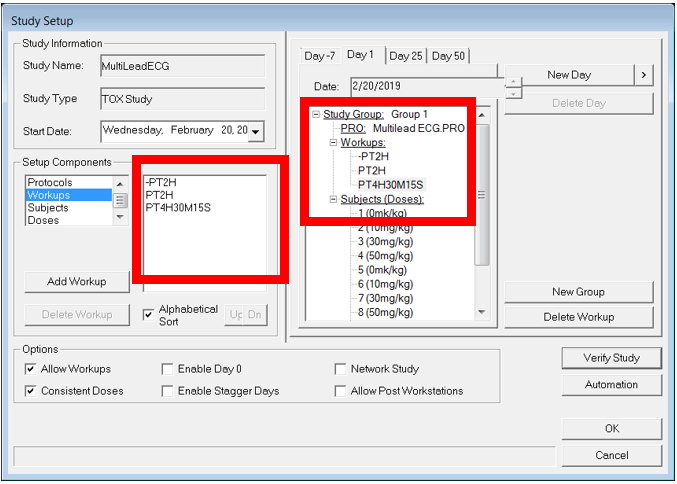 Data Review and SEND Configuration
Below shows the two-hour pre-dose Review session with a single parser segment and the AVG (average) calculated for the enabled derived parameters.  It is also worth noting that derived parameters will only be present in SEND output if those parameters have been mapped to a TESTCD in the SEND.XML file and enabled in the Channel Input Setup menu.  By default the SEND.XML only contains mappings for results that are defined by CDISC.  Ponemah provides a number of calculations that are not currently defined by CDISC.
SEND information can be configured in idle mode along with other study and setup information.  Below is an example of the SEND dialog after configuration.  To utilize the automated features with Study, uncheck Edit Study Name, Edit Study Day, and Edit Workup.  This will pull in the Study information based on the file that is currently loaded.  In this example, it is the 4:30:15 timepoint.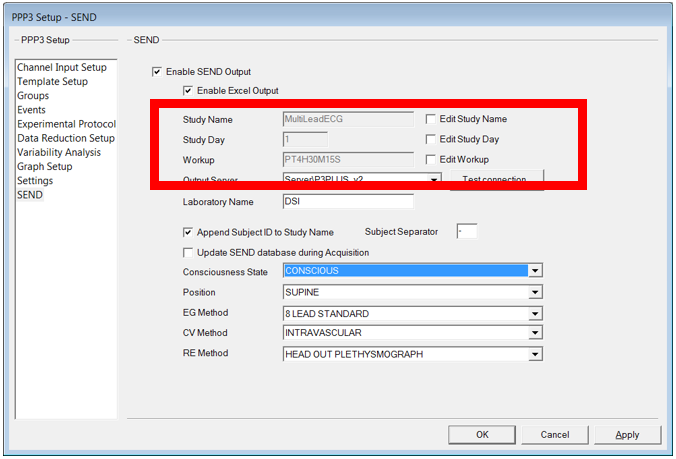 SEND Output
From the SEND pull-down menu on the main Ponemah window, select SEND Viewer.  On the left side of the dialog, select the filters specific to the study and data of interest.
Workup information entered into Study is included in the SEND output under EGTPT and EGELTM.