Model:           Transceiver (TRX)
Version:         1.52042
Date:             January 2016 
Firmware Release Notes for Transceiver (TRX) version 1.52042 indicate revisions made to the TRX Firmware since its initial release. The firmware is responsible for sending commands to the TRX when commanded to by the CLC, and for detecting and transferring the data from the PhysioTel Digital implant back to the CLC.
Release History
| | | | | |
| --- | --- | --- | --- | --- |
| Version | 1.21248* | 1.30009 | 1.46186 | 1.52042 |
| Release Date | July 2012 | May 2013 | March 2015 | January 2016 |
*Original firmware released with TRX.
Compatibility
All TRX Firmware versions are backwards compatible with all PhysioTelTM Digital Implants and CLC firmware versions.  They are also compatible with Ponemah versions 5.10, 5.20, 6.10-6.30, and any associated service packs.  
Newer TRX Firmware versions may not be compatible with older versions of TRX Hardware.  Module versions of the TRX hardware are compatible with all versions of the TRX firmware if the update is performed at the DSI facility, but it will not be compatible if the update is performed in the field.  CSP versions of the TRX are not backwards compatible with older firmware (1.21248 or 1.30009).  
Accessing the TRX Status page from the CLC webpage can tell what version of the TRX is connected to the CLC.  The assembly revision of 4 is a module TRX.  Assembly revision of 5 is a CSP TRX.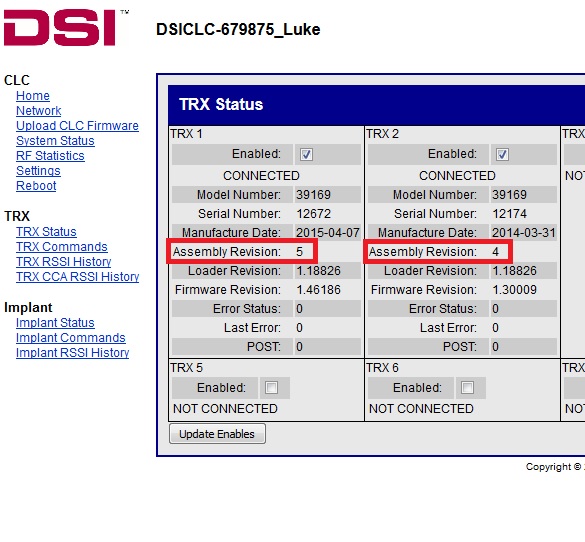 DSI recommends updating the CLC firmware to the latest version prior to updating the TRX firmware as this will improve the reliability of updating the TRX firmware.
New features, enhancements, and fixes
Reference #

Release Version

Description

Disposition

 

 1.52042

Added more test frequencies for manufacturing support

Enhancement
 

 1.46186

This firmware update adds capability for the new CSP RF 1.5 IC.  Previous versions of the TRXs were manufactured with a module from a company called MicroSemi.  The module went obsolete, and was replaced with the CSP 1.5 IC. 

This IC provides better tuning capability, and is easier to manufacturer.

 

Enhancement

 

1.30009

The firmware update suppresses the RSSI (Received Signal Strength Indicator) Unavailable error message.  If this error occurred as a pop-up indicating:

"TRX SN xxxxx error at Jx of CLC:DSICLC-serial number:  TD 16202:  TRX error"

The RSSI represents the strength of signal the TRX detects from an implant. This error occurs if the TRX does not receive a valid RSSI value.  The CLC uses the RSSI value to rank the signal strength of the connected TRXs.  The CLC will use data from up to 3 TRX to send data to the system. When a TRX does not receive a valid RSSI value it will provide the CLC a low RSSI value such that it will be ranked last by the CLC.  If 3 or less TRX are connected to the CLC there will be no effect on the system.  If more than 3 TRX are connected then data from the TRX will not be used as at least 3 other TRX will have a larger RSSI value.

Enhancement

 

1.30009

The firmware update fixes an issue that improves the speed and reliability for PhysioTel Digital systems used in Europe. In Europe, DSI was required to implement a listen before talk protocol. Here the TRX listens for an RF device (other than an implant) before sending a command to the implant. When the TRX detects an RF device with sufficient power, it will not send the command to the implant until the detected RF is gone.  Occasionally, the TRX was unable to determine the difference between RF from another device and an implant attempting to be recognized by the system.  The firmware update enables the TRX to distinguish between the two, allowing the implant to be recognized by the system.

Fix