Ponemah 6.x Getting Started Guide for Implantable Telemetry - Step 1
Return to Getting Started Guide Overview
Step 1: Hardware Setup
The Ponemah Data Acquisition system automates the collection of physiologic data via wireless telemetry.
As a courtesy, DSI has included the colored cables referenced in the figure below with the system. However, any color standard Cat5e or Cat6e Ethernet cables may be used in system set-up.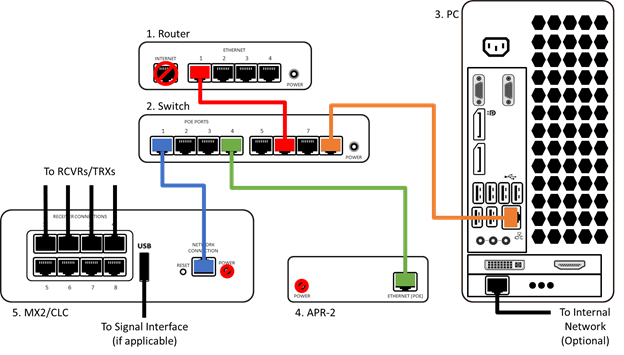 To connect your hardware:
Connect the red Ethernet cable from the output of the router (1) to any port (PoE or non-PoE) on the switch (2).
Connect the orange Ethernet cable from the PC (3) to any port (PoE or non-PoE) on the switch (2).
Connect the yellow Ethernet cable from the J1-Ethernet jack on the APR-2 (4) to a PoE port on the switch (2).
Power up the Router by ensuring the provided power supply is plugged in, and press the power button on the back of the unit (1). Note: Booting may take up to two minutes.
Power up the switch by plugging in the provided power supply, there is no power button to press (2).
After the switch is powered up, connect the blue Ethernet cable from the network connection jack of the Matrix 2.0 (MX2) (5) or the Communication Link Controller (CLC) (5) to one of the PoE ports on the switch (2).
The MX2/CLC (5) should power up in about 1.5 minutes. The front panel LEDs indicate when the MX2/CLC is ready as the green power button ONLY will be lit. If the amber or red LEDs are lit the device has not fully booted up yet. If the red error light is blinking, this means the router is not connected or powered and is not supplying an IP address to the MX2/CLC.
Connect the appropriate receiver for MX2 (an RPC or RSC) OR transceiver for CLC (TRX) to the connections on the back of the MX2/CLC (5).

If using the CLC (PhysioTel Digital implants), connect TRXs in sequential order starting at jack 1. This will optimize communication with the Digital Implants for the best experience.
Note: For a typical setup, the MX2, CLC, APR-2, and E2S-1 are powered by the PoE port of the switch and DO NOT require an additional power supply. If a PoE switch is not available, the components will need their own individual power supplies.
The following example illustrates the hardware setup when using an APR-1 with E2S-1.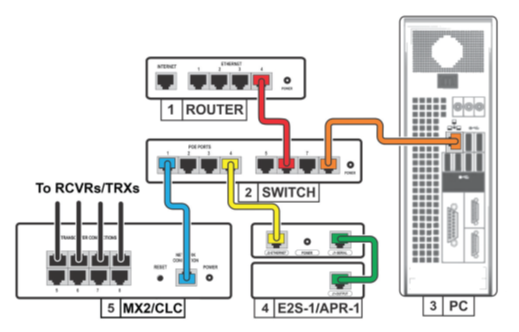 Next Section - Step 2: Understanding Experiments