Combining .RAW files using Ponemah v5.20
Background
The Combine Raw Files feature is used to concatenate two or more RAW files after a catastrophic failure.  For example, if collecting data for 24 hours and a power failure occurs at hour 15, the workstation would need to be manually restarted (as well as acquisition) in order to collect the remaining data.  This would result in two RAW files as well as separate Excel files.  If using DSI Reporting, users would not be able to properly report the data as one continuous collection.
It is important to note that this feature does have limitations.  You cannot combine files that have large gaps in time (days) and the protocol configuration must be exactly the same for both files. It is intended to repair files that were expected to be a continuous collection. 
Using the Combine RAW Files Feature
The Combine RAW Files feature is accessible from the File pull-down menu while in idle mode.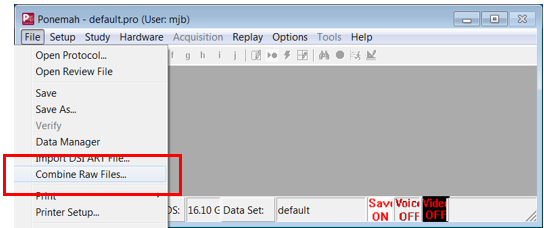 After selecting this option, the Combine RAW Files dialog is presented and the RAW files that will be combined must be selected by using the "Add a raw file to the list" button.  After selecting this button, browse to the location of the data that will be combined.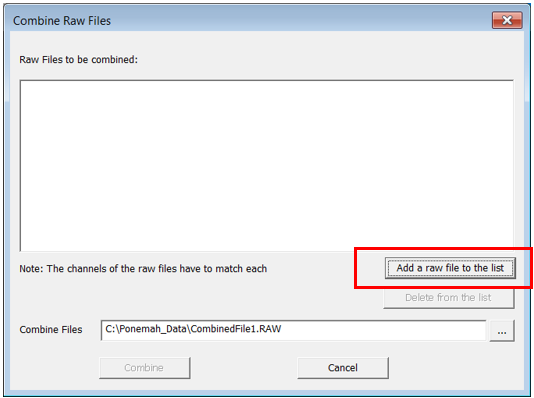 In this example, two RAW files will be combined.  After browsing to the location where the data was saved, select one of the RAW data files and click on the Open button.  Repeat this process for the second file as selection of multiple files is not permitted.  Once completed, both RAW files should be displayed similar to what is shown below.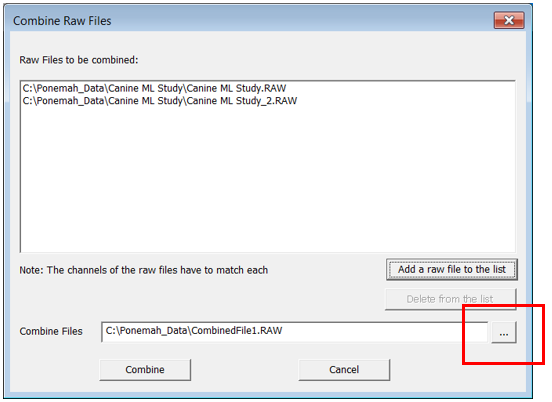 Next, in the Combine Files edit box, select the location and name for the combined file. By default, the filename "CombinedFile1" will be listed to prevent overwriting any previously collected file.  To change the location and name, select the "…" function highlighted above to access the Explorer tree view menu as shown below. Click on Save to complete the name and location change.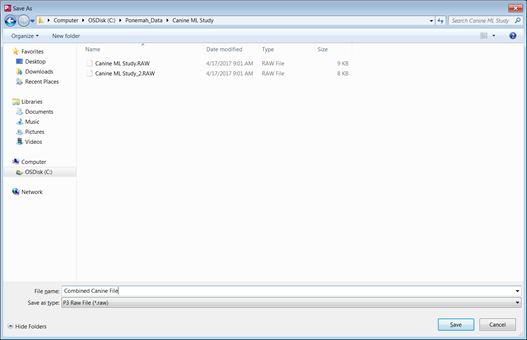 Finally, click on the Combine button located at the bottom of the dialog to complete the process.  The new file will be created and placed in the designated location.