Procedure to update Ponemah 5.32 files to be read into Neuroscore 3.3.1
This article outlines the process of how to update the Ponemah 5.32 files in order for it to be imported into NeuroScore. This is done by running a utility the converts the header of Ponemah v5.40 raw files back into the Ponemah v5.20 raw file header format.
Open the folder where the ResetRAWHeader.exe is located and run the program.
Click on the Select PRO File option 1. Option 2 and 3 are typically not necessary.
Browse to the folder where the data files are located and select the PRO file to be updated. The PRO file must be a Ponemah 5.32 PRO file, which will then be updated to match the format of Ponemah 5.2 PRO so that it can be properly read by Neuroscore.
The update will automatically run after PRO is selected and a message should appear indicating it was successful.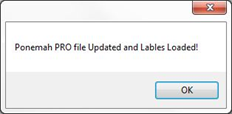 View the data folder. The fixed PRO file will automatically replace the original, and the original PRO file has been renamed with name ending _ORG.