Ponemah 6.x Getting Started Guide for Implantable Telemetry - Step 4
Return to Getting Started Guide Overview
Return to PhysioTel and HD or PhysioTel Digital Implant Setup
Step 4: Subject Setup
Ponemah represents the research animals used for data acquisition as Subjects. Ponemah will only acquire from Input Sources (e.g. implants, APR-1) if they are defined to a Subject, as the Subject is used to group Input Sources together as a single entity for acquisition start. Subjects are also used to group waveform and derived data from the associated Input Sources throughout the Ponemah application.
Subjects will be automatically created upon clicking Save & Exit from the PhysioTel (MX2) or PhysioTel Digital (CLC) Configuration dialogs. Subjects will be named with the Name defined while configuring the implant in the configuration and will have that specific implant automatically associated with it.
Click here for a video demonstration of Subject Setup and APR-1 configuration.
Subject Setup may be accessed to further refine settings by:
Double-clicking the subject name in Sampling Control Window

OR


Selecting the Setup menu and choosing Subject Setup.
Subject Details
Details about the subject are automatically defined based on the Signal Types defined during implant creation. It is strongly recommended to use the default Analysis selected based on the Signal Type defined during implant creation. However, if the signal type was not updated appropriately, the analysis module can be modified. For example, if collecting Left Ventricular Pressure (LVP) and the signal type was set to Blood Pressure (BP), the BP analysis module will be defined in the Subject Details. This should be updated to the LVP analysis module to analyze the data appropriately. Note: this can be modified after an acquisition has been performed should the incorrect module be used.
The following settings can be edited based on your preference:
Subject Name
Gender
Species
Analysis Module
Label
Units
Trigger
Note: It is important to choose the Species that most closely represents the heart rate of the species you are using.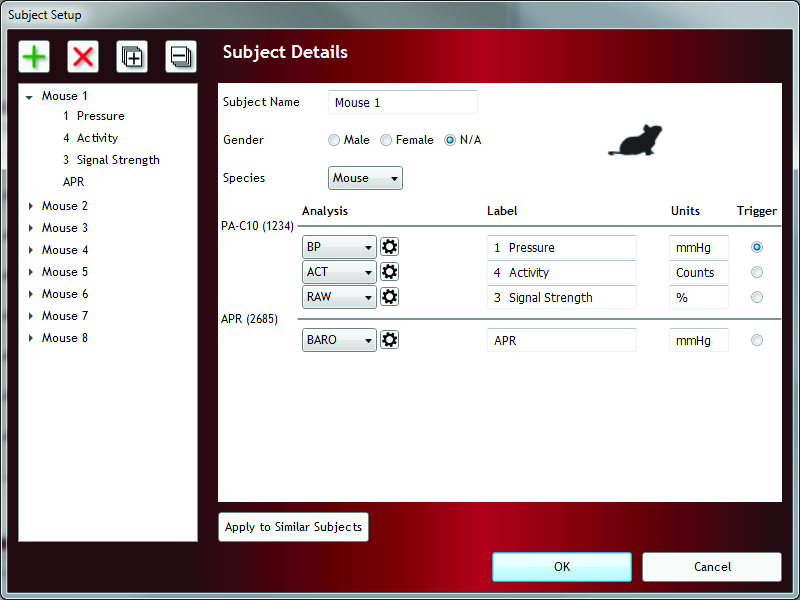 Channel Details
Left-clicking the Channel associated with the Subject from the tree view list will display the Channel Details. By default, the most common parameters will be enabled (checked) based on the analysis module selected. Simply enable or disable the parameters you are most interested in.
Note: derived parameters can be enabled/disabled during post acquisition data review.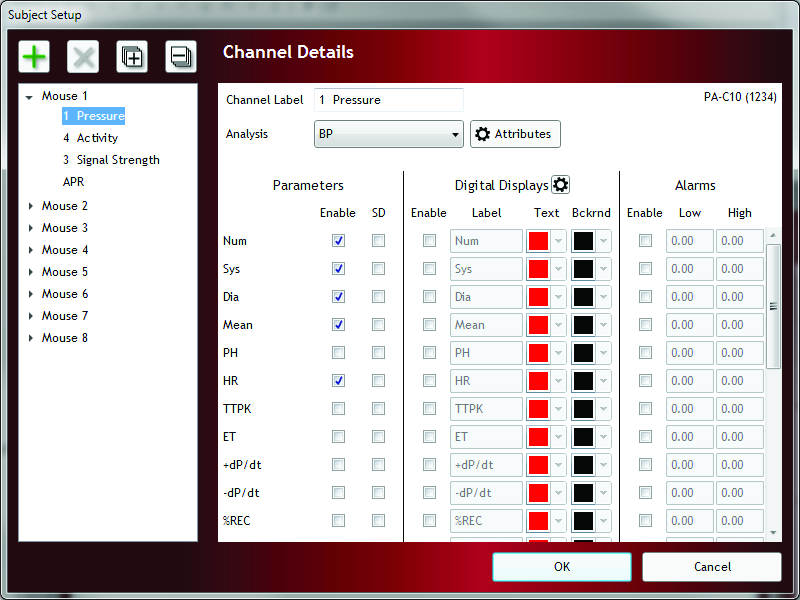 Next Section - Step 5: Graph Setup