Creating an Anesthesia Nosecone for Rodents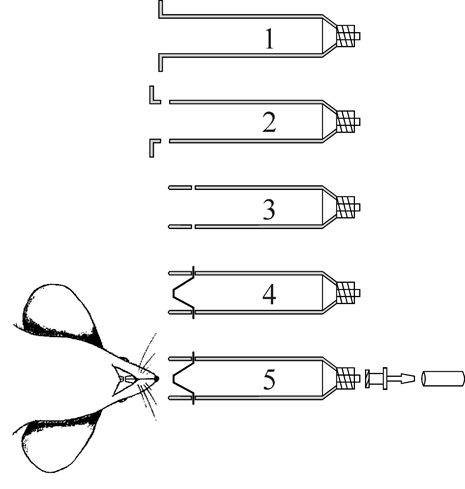 Select a "luer-lock" syringe of the proper diameter for the animal species. The opening should fit around the snout between the nares and the eyes.
Remove plunger and cut off the finger portion of the syringe.
Smooth the cut edge of the cylinder to protect the animal's snout. Drill a hole through the cylinder wall as shown in illustration 3.
Bend a length of stiff stainless steel wire, or paper clip, so that it will snare the animal's upper incisors and keep the animal's snout snugly in the cylinder.
Connect to gas supply with "luer-lock" fittings. Snare the animal's incisors with the wire hook and secure to the operating surface with tape.
There are many possible variations to this basic design. The idea is to anchor the animal's snout to the table for better stability.  This simple apparatus works well if you have laminar flow across your tabletop for evacuation of waste gases.