Multi-lead ECG Toxicology Application
Background
Multi-lead ECG, or wired ECG, studies have been performed for many years in a Toxicology setting using primarily dogs and non-human primates.  The number of subjects involved in this type of study varies greatly but 20-80 subjects, with up to 10 collection points during a study, is typical.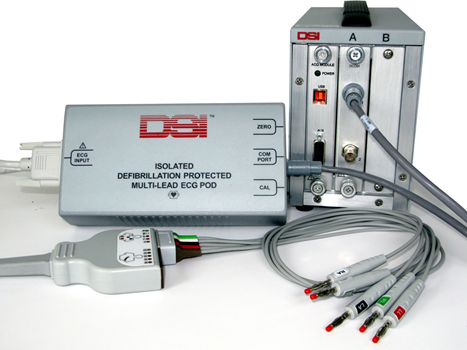 Collections are relatively short in duration lasting less than two minutes.  Review of the data usually involves a small number of cycles with 3-10 cycles being used for reporting.  In addition, multiple collections may be performed in a single day.
Subjects are collected in a serial fashion, one at a time, with this hardware configuration.  Due to the large number of subjects that may be involved in this application, it is not uncommon for multiple workstations to be used to collect data.  In this scenario, the Study Option in Ponemah is widely used to collect and merge data from multiple workstations into a single workstation for reporting.
Even though 12 leads are available, 4-7 leads are generally collected.  Lead II is the lead of interest in almost all collections.  The other leads are not typically reported but can be used to aid in reviewing the data or may be used for reporting if Lead II is not viable.
ECG Hardware
The current solution for the multi-lead collection is the ACQ-7700 two slot chassis (PNM-P3P-7002XE) utilizing the DCOM module (13-7715-70) and ECG12 Pod (13-7770-ECG12).  This configuration allows up to 12 ECG lead presentations to be collected.
Other hardwired ECG solutions are available using the ACQ-7700 but are not used in this application due to the lead configuration available.  Below summarizes the ancillary options along with the ECG12 Pod.
 

Multi-Lead ECG Pod

BIO12 Pod

UniversalXE

Isolation

Yes

Yes

No

Defibrillation Protection

Yes

No

No

Lead Type

10 lead cable set

12 discrete pairs

3 lead cable set

ECG Output

12 ECG output signals

12 discrete outputs (i.e. limb lead, not augmented)

1 ECG output signal

Lead Placement

Surface or electrogram

Surface or electrogram

Surface lead only

Bandwidth

0.05 to 500Hz

0.05 to 1KHz

DC to 5KHz

Full Scale Input Range

250uV to ±25mV

±40µV to ±40mV

Bipolar: ±25µV to ±5V

Unipolar: 0-50µV to 0-5V
To learn more about DSI's ECG Applications, please see the ECG Research section of DSI's website:
https://www.datasci.com/solutions/cardiovascular/ecg-research