How to normalize to Ponemah Activity Parameter to Counts/min
When using Ponemah v6.30+, the Activity Derived Parameter obtained when collected with an MX2 will be in counts/mins. To better understand the Ponemah Activity Derived Parameter, please see the following article:
If you are not using Ponemah v6.30 or greater, you may want to normalize the Activity Derived Parameter output obtained using an MX2 to Counts/min:
Ponemah v5.x defaults to Activity measurement to Counts/sec.
You collected the Activity Waveform at 10 Hz, which defaults sample rate when using Ponemah v6.00 - v6.12.
To directly obtain counts/min using Ponemah v5.x:
Navigate to the C:\Ponemah\ folder.
Open the PPP3.ini file in Notepad.
Modify the Activity Reset=1 to Activity Reset=60.
Save the changes and close the file.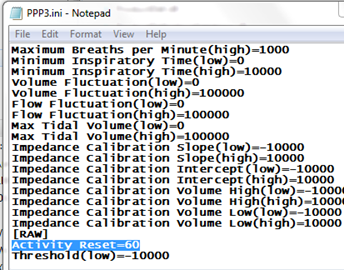 The Activity Derived Parameter will now report to the Derived List View (.drx spreadsheet) in Counts/min when using the TA derived parameter.
To normalize Activity Derived Parameter output from data collected using Ponemah v6.00-v6.12 to Counts/min:
Follow steps 1-4 above, to update the Activity Reset Value to 60.
Launch Ponemah and select Actions | Start Review.
Choose the Subject and signals to bring into Review - ensure Activity is selected.
Enable the Total Activity (ATA) Derived Parameter from the Subject Setup dialog by selecting the Setup menu | Subject Setup and then selecting the Activity Channel from the List View on the Left.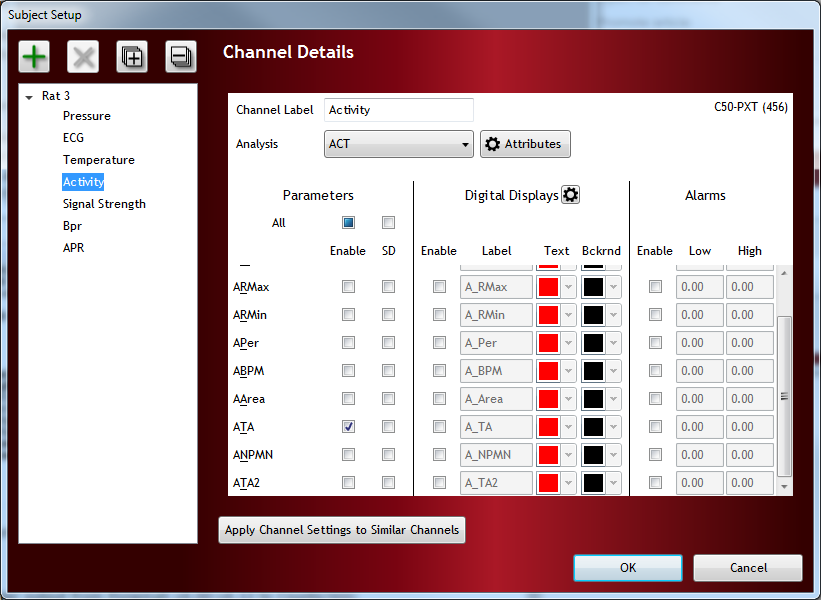 Wait for the Derived Parameter data in the Derived List Views to recalculate.
Select Experiment | Save Mark Section.
From the resultant Excel file, multiply the Activity data by 10 to scale it to Counts/min.
Note: In Ponemah v6.00 you will also need to correct the Activity for a 0.508 offset.
To do this:
Prior to step 5 above, plot the Activity waveform using a Primary Graph.
Right-click the graph and select Analyze [Attributes] from the menu.
In the Activity Analysis Attributes window select Rising for Trigger Direction and enter 0.508 in the Area Baseline text field.
Switch The Trigger Direction back to Disable.  
If you have additional Activity channels to correct, select the channels from the Additional Channels tab.
Click OK.
Enable the checkbox to Reanalyze the channel and select the radio button for The entire channel.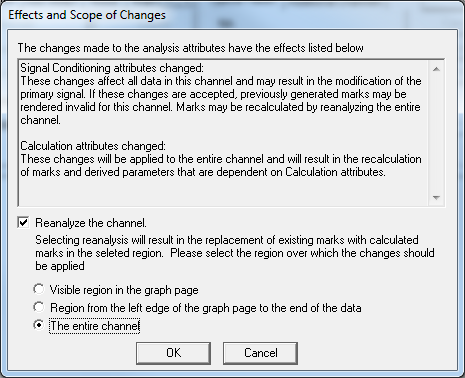 Click OK.
Complete steps 5-7 above.