Ponemah 5.x Custom Derived Parameters bug: display same line multiple times or inappropriately displays "0.00"
Issue:
The Custom Derived Parameters function in Ponemah 5.x may erroneously display the same rows multiple times, report inappropriately "0.00" or "x" in the data reduction table. This can occur when CDP and a combination of either scatter graphs or data reduction is being used.
Example of how the CDP bug displays redundant rows showing the same data repeated: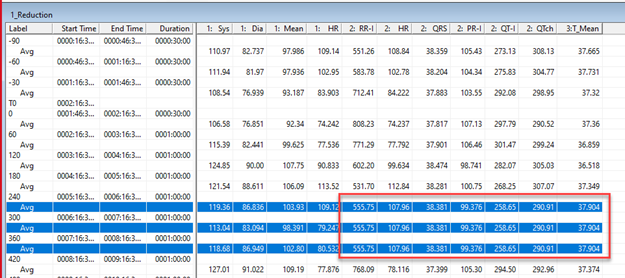 Example of displaying "0.00" inappropriately

Workarounds:
To resolve this issue:
After the derived data tables have finished calculating, re-calculate the data by changing the logging rate to trigger data re-calculations. Note: there are other methods to trigger re-calculations and these would work also. In addition, turn off scatter plots when you no longer need them.