NeuroScore is unusually slow
Symptoms
NeuroScore reacts very slowly to any task when running analysis. Neuroscore can also be slow when specific tasks are completed loading the data for analysis, performing an analysis, or when saving data. Specific solutions may apply in these situations.
Solutions:
If the analysis with NeuroScore is generally slow, independent on the task
1. Computer specs: The computer should fulfill the specification requirements as listed in the NeuroScore manual available here.
2. The version of Sentinel Protection Installer that is installed with NeuroScore program should be updated. Especially on Windows 10 operating systems (Windows 10 enterprise 1809 and later), an upgrade of the Sentinel driver should be performed in order to improve the speed performance. Sentinel protection Installer 7.7.0 for Windows is recommended and available here for the download.
Please note that only one version of the Sentinel driver should be installed on the NeuroScore analysis computer. The older Sentinel driver version should be uninstalled from Windows Control Panel.
3. The location of the data-sets being analyzed: Datasets should be locally copied on the computer. When the analysis is performed on data-sets that are located on external drives or in the network , the analysis process may be slowed down, dependent on the quality of data transfer or the network traffic
4. Antivirus scans and other programs including those that are scheduled to run in the background (Updates, Disk Defrag. etc.) should be stopped or disabled when running NeuroScore analysis. Other programs may consume considerable computing resources, slowing down the NeuroScore analysis. (Check the CPU and Memory usage under Windows Task Manager)
If NeuroScore is very slow only when uploading data with video for the analysis
This problem may occur when working with NeuroScore versions older than 3.2.1 and this problem was fixed in the next version. Make sure that you are using one of the latest NeuroScore released builds. Version 3.4. is available for download here, and it will work with the same license that was used for version 3.2.1
If NeuroScore is slow only when using
S

p

ikes detection module

For really large data-sets or data-sets that contain a huge number of detected spikes, NeuroScore analysis can get very slow. In this case there a some display- or report- options that can be removed if they are not needed , in order to speed up the analysis or data saving process

1. When Marker List is not used, one can uncheck "Show marker list" from the main menu: Tools-> Options->Workspace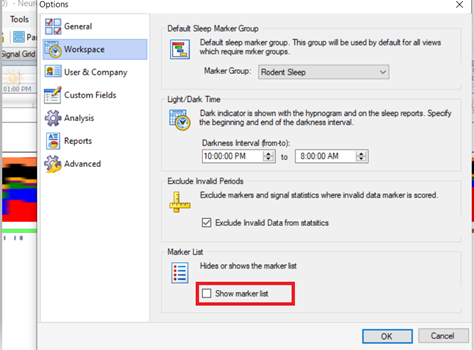 2. Uncheck "Marker allowed in overviews" from the main menu: Edit-> Configuration-> Marker Types & Groups -> Spike Single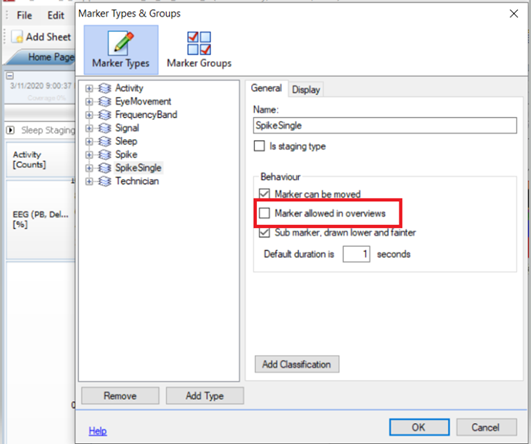 3. Removing "Marker Bar Graph" from the seizure report template will speed up the process of saving and closing recording that have a huge number of detected spikes Reports that are already created and saved with included Marker Bar Graph should be deleted and recreated to increase speed.
Edit Seizure Reportunder main menu: Reports->Report Templates->Manage Templates-> Seizure Report. Under Trend Overview section, select Marker Bar Graph, click on Remove, and then Save.