How to use NeuroScore to calculate the power in a specific frequency band for a seizure.
Often, researchers conducting seizure analysis with NeuroScore would like to evaluate the power in a given frequency band during a seizure (Spike - Train). 
To do this:
Begin by running the automated Spikes analysis protocol or manually place Spike - Train markers.
Right click on the EEG signal and select "Add Derived Signal".
Select "Periodogram Power Band", then enter a short epoch duration (e.g. 1 second) and the limits of the frequency band you're interested in. In the example, the 20 Hz - 25 Hz band was selected.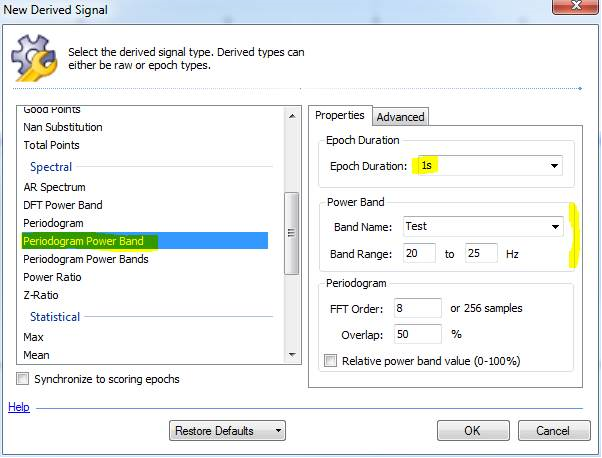 This will create the corresponding derived signal.

Use a Marker Grid to compute the power per seizure.

Click Add Sheet | Empty Marker Grid.
Click "No markers or bouts selected. Click to select…" and select Spikes


Add the following Columns:

Start Time
Duration
Signal
Select the New Derived Signal created in step 2 above and choose Average Value.

This column will display the average power in the frequency band of interest during each Seizure. The following screenshots will walk you through the Add Signal wizard. 





The Marker Grid may be exported to Excel.
The resultant Marker Grid will look like this: